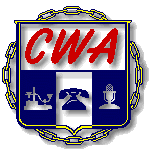 Communications Workers of America
AFL-CIO
Local 9410
Welcome to CWA Local 9410



Notice to the Membership
CWA 75th National Convention

Delegate Nominations

The CWA 75th National Convention will be held in Detroit on June 8-10, 2015

Nominations for delegates will be taken at the Union Hall on Tuesday, April 14, 2015 at 5:00pm. You must be a member in good standing to be nominated.

Should you have questions, please contact the hall.


CWA Local 9410 Election
CWA Local 9410 General Election Tentative Certification of Election Results for 2015-2017 Officers and Executive Board. Election Committee certifies that the results of the tabulation cast in the election concluded on November 10, 2014 were as follows:

President - Orange Richardson IV -128 John Young - 34

All other Officers and Executive Board Members where Elected by Acclamation

Officers:
Vice President - Roland Andersen
Sec/Treas - Larry Yee

Executive Board Members:
(2) Plant - Efanye Chibuko and Ruben Medina
(1) Marketing AMG - Hong Liu
(1) AT&T UVERSE - Alex Legaspi, Jr.
(1) AT&T Mobility - Stephanie Thomas
(1) Palcare - Chauncy Herbert
(1) At- Large - Danny Joyeux

This is CWA Local 9410's Election Committees' tentative certification of results. Unless successfully challenged, this certification will become final in ten (10) days.

CWA/AT&T Core Contract Expires on April, 2016
Our AT&T contract will expire on April 9, 2016. We need to be ready and prepare for a possible strike now. What are your priorities? CWA National Bargaining Council will meet on October 7, 2014 in Chicago to address CWA/AT&T contract negotiations.
240 Second Street
San Francisco CA 94105

News Hotline: 415-273-5615
Office: 415-777-9410
Fax: 415-777-0195
Email: info@cwa9410.com