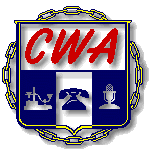 Communications Workers of America
AFL-CIO
Local 9410
Welcome to CWA Local 9410


Notice to the Membership
Nominations will be taken at our regularly scheduled membership meeting for all CWA Local 9410 Officers and Executive Board position for the term 2015-2017 as follows:

DATE: Tuesday, September 23, 2014
TIME: 9:00 am and 5:00 pm
PLACE: CWA Local 9410 Union Hall
240 2nd Street - 2nd Floor, SF

President, Vice President, Secretary-Treasurer.
Executive Board:
AT&T Plant - 2 seats
AT&T Marketing - 1 seat
AT&T Prem Tech - 1 seat
AT&T Mobility - 1 seat
Palcare - 1 seat
At Large - 1 seat (Avaya, CWA Staff, FMI, Retiree4s, SEIU 1021)

To be eligible to be nominated, you must be a member in good standing, and for Executive Board, you must be part of one of the above units.


CWA/AT&T Core Contract Expires on April, 2016
1 year, 7 months and 9 days or 586 days from now our AT&T contract will expired on April 9, 2016. We need to be ready and prepare for a possible strike now. What are your priorities? CWA National Bargaining Council will meet on October 7, 2014 in Chicago to address CWA/AT&T contract negotiations.
240 Second Street
San Francisco CA 94105

News Hotline: 415-273-5615
Office: 415-777-9410
Fax: 415-777-0195
Email: info@cwa9410.com